I want to feature a product that I was ignorantly NOT into when I was a teen but have since seen the light even though it has to do with my most uncomfortable time of the month. I am talking about re-usable sanitary pads! If they are quality made - they work! They stop an incredible amount of plastic from going into our landfills as well as being produced in the first place! I recently watched a film "Addicted to Plastic" and was horrified how prevelent it is in our lives and how harmful it is in SO many ways (leaching toxins - who wants that next to our intimate parts?) This item I got from a wonderful seller on etsy, Bambi,
www.etsy.com/shop/deersprite
Here is the awesome product she makes: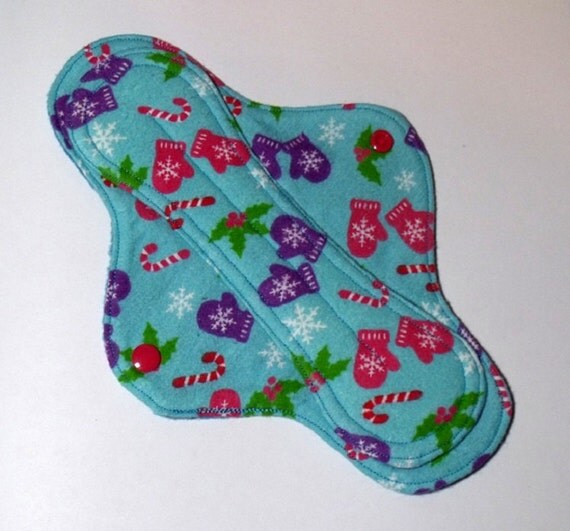 It is made out of cotton flannel (prewashed to help prevent against shrinkage, 3 layers), Warm & Natural batting (2 layers), and fleece. For pads designed for heavier flows, she adds a layer of PUL (polyurethane laminated fabric) to help make it waterproof. Each pad consists of 2 parts: the top pad and the underpad. Each top pad is quilted for comfort and I use a minimal amount of stitching to attach the top pad to the underpad, to help prevent against leakage. All pads have wings that wrap around your undergarment and snap together to help them stay put.